Paperwork Needed to File a Small Claims Lawsuit in Volusia County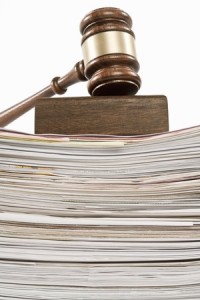 If you are owed cash, property, or other assets in Volusia County, you must file a civil lawsuit to recover what you are owed. The first step in this process is to figure out which civil court is the most appropriate to hear your case.
Once you have determined which civil court has jurisdiction over your case, you need to gather the required paperwork to file. In this post, we will discuss the general procedures for filing a case with small claims court. Note that for any case in Volusia county you have the right to hire an attorney to assist you. However, the use of an attorney is not required, especially for simple small claims cases.
Filing
According to the Volusia County Clerk of Court, "Jurisdiction [in a small claims case] is in the county where the defendant resides, where the contract was entered into, where the property to be recovered is located or where the action occurred." If none of these situations apply to your case then you must file it in a different location. Not following this rule will result in your case being dismissed from Volusia county Court with no refund of fees.
Once you're sure about jurisdiction, you must file all the relevant small claims forms with the clerk of court, including a Statement of the Claim form (also known as the complaint) for your case with the clerk of court and pay any filing fees. Since each small claims case is different, the forms and fees required for each case will also differ. A summary of the Volusia County small claims filing requirements can be found here.
When filling out your case forms, be sure to use the full name of all persons or businesses involved in the case. Do not use fictitious or assumed names as these are not valid. It can be difficult at times to find out a person's real name, however, there are resources out there to assist with this. 
Serving Summons
Once your forms are filed and fees are paid, you will be issued a summons for each defendant in the case. It is your responsibility to have the summons officially served to the case defendants using either local law enforcement civil division or a private certified process server. Once the summons is served, proof of service is to be filed back with the clerk of court.
For the best private, certified process servers in the Daytona Beach area, look no further than Accurate Serve. All of our servers are knowledgeable, experienced, and dedicated to serving process quickly and lawfully in Volusia County.  Call us at (386) 569-8475 or send us your work requests online, then track the status of your case 24/7 using our convenient online status tracker, accessible anywhere with an internet connection right from our homepage. 
Pre-Trial Hearing
Your case summons will include a date, time, and location for a pre-trial hearing. Either you or your representative must be present at this pretrial hearing for your case to proceed. If you, as the plaintiff, do not show up to the pretrial hearing, the judge May dismiss your case. If the defendant does not show up to the pretrial hearing, the judge May issue a default judgment for the amount you've requested.
Assuming you and the defendant(s) show up for the pre-trial hearing, your case will likely be sent to mediation.
Mediation
During mediation, a third-party mediator completely unrelated to the case or anyone involved in it will sit down with you and the defendant(s) and try to reach an agreement about the claim. The mediator will try to assess the case from a neutral perspective and encourage both sides to make compromises in order to reach an agreement that works for everyone. If an agreement cannot be reached in mediation, your case will proceed to trial.
Trial
During a small claims trial, a judge will hear both your and the defendant's side of the story and make a decision based on what they believe is fair and just. You must bring all witnesses and documentation of your claim with you on your trial date. Anything or anyone that you do not have with you on your trial date will not be considered in your case.
The judge may decide to award you the entire amount that you are claiming or a reduced amount based on what they feel is a more equitable judgment. If the judge does not feel that your claim is valid, they may dismiss your entire case.
If either side does not agree with the judgment they can file an appeal within 30 days.
Judgment
Once a judgment is issued in a small claims case, it moves on to the enforcement stage. The court is not responsible for enforcing or collecting judgments. However, the court can assist you in identifying assets owned by the defendant(s) by issuing an Order for the defendant to complete a Fact Information Sheet where they must list said assets. You may also file a certified copy of the final judgment with any county where the defendant(s) reside or own property to potentially create a lien on said property. Finally, the court can issue a Writ of Execution at least 10 days after the judgment date which allows law enforcement to physically seize assets owned by the defendant(s)  in order to satisfy the judgment.
There are other resources available to help plaintiffs collect on judgments in their favor. Consult with an attorney licensed in the State of Florida for more information.