How Can a Process Server Help My Law Firm?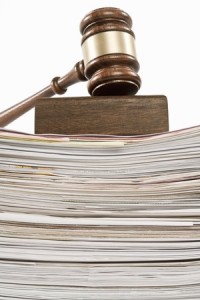 If you manage or work at a law firm, you may be wondering if hiring a private process service agency has any benefits over just using the local sheriff's department. It may be tempting to request service by law enforcement while you're already at the courthouse filing other paperwork, but there are some clear advantages to using a process server agency, especially when you handle a steady flow of cases.
Using a quality process service agency, like Accurate Serve® of Daytona Beach, for all of your firm's process service needs will:
Make requesting process service easy
If there's one thing attorneys never have enough of, it's time. But, here at Accurate Serve® in Daytona Beach, we make requesting process service quick and easy. You simply go to our website, click on 'Send Work', and enter your details. Once we receive your information and prepayment, we deliver your case's documents to the intended parties. It's that easy!
Ensure you meet all case deadlines
Many people do not realize that multiple deadlines are in play as soon as a case is filed here in Volusia County. With all of the extra responsibilities placed on our local law enforcement, process service may not always get priority treatment. Here at Accurate Serve® in Daytona Beach, we deal with varying case deadlines every day, so we know how important it is to get your case's process served quickly. We will make sure that any requests we receive are turned around as quickly as possible, leaving plenty of time to deal with any problems that may arise along the way.
Keep you updated 24/7
One of the most popular features we offer here at Accurate Serve® is our 24/7 online status tracking tool, available on our homepage. Simply log in to your Accurate Serve® account to see exactly what's going on with each of your requests, day or night.
Provide verifiable proof of service
Every time one of our servers serves process to an intended recipient, it is fully documented accordingly to Florida's state requirements. Even if the recipient was unwilling to sign stating that they received the process, we still have a procedure to document that the process was lawfully served. We provide this proof of service to you as well as the local court.
Provide some much-needed stress relief
Keeping up with all of the moving parts of each of your firm's cases is difficult. Let us ease some of that burden by providing the easiest, fastest, highest-quality process service in the Daytona Beach area. You'll never have to worry about dealing with complicated request forms, missing deadlines, having to reschedule court dates, or not knowing if or when your case's process was actually served. Call Accurate Serve® of Daytona Beach at (386) 569-8475 or visit us online today to find out how we can help your firm with all of its process service, document retrieval, skip trace, and diligent search needs today!